Inaugurates Rooftop solar PV, BNBR Realizes Green Industry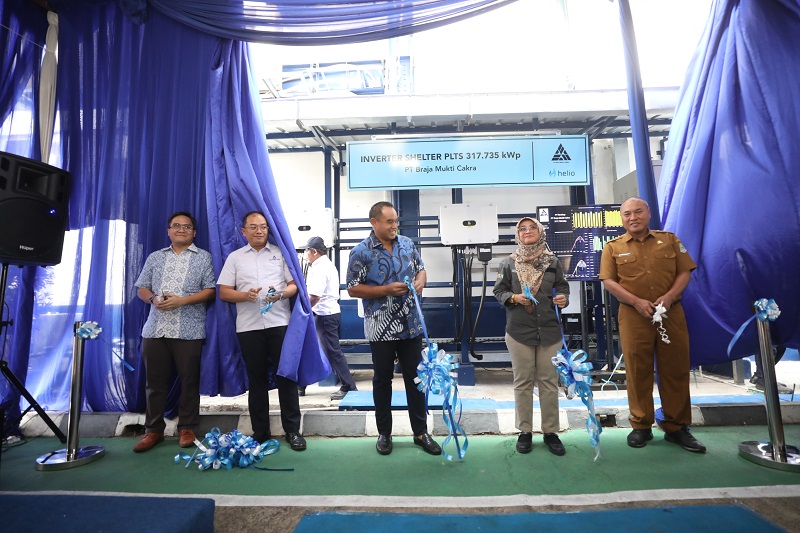 PT Braja Mukti Cakra (BMC), one of the business units owned by PT Bakrie & Brothers Tbk. (BNBR) which is a joint venture with PT Krama Yudha Tiga Berlian (KTB), which operates in the automotive component manufacturing industry, inaugurated the Rooftop Solar Power Plant (PLTS), in Bekasi, West Java, Tuesday (26/9/2023). This Rooftop PLTS with a capacity of 317.7 kWp (kilowatt-peak) will be able to produce electrical energy of up to 434 MWh (megawatt-hour) per year.
Deputy President Director of BNBR A. Ardiansyah Bakrie said that the construction of PLTS Rooftops at the BMC factory is BNBR's commitment and is fully supported by KTB to realize the transition towards a greener, more sustainable and environmentally friendly business. This is increasingly urgent amidst the issue of air pollution due to CO2 gas emissions that hit several cities in Indonesia.
"Realizing the importance of this, another BNBR business unit operating in the new and renewable energy sector, namely PT Helio Synar Energi, has long since directed its operations to a sustainable energy business and is fighting for a green economy. The latest is building a Rooftop PLTS in the business unit "BNBR-KTB, namely Braja Mukti Cakra," said Ardi.
Ardi added, as a visionary company led by the third generation, the Bakrie Group is very aware of the importance of the global energy transition. This is not only for environmental sustainability but also a form of inheritance for future generations.
"After BMC, Helio will also immediately build Rooftop PLTS in factories and other operational facilities within the Bakrie Group with a larger capacity," he said.
President Director of PT Helio Synar Energi (Helio) Ronald Nehemia Sinaga said that the company is currently intensively building solar power plants (PLTS) for utility scale and commercial & industrial (C&I). As an initial contribution to realizing industrial decarbonization, Helio will soon install Rooftop PLTS in other factories, after previously being successful at the PT Braja Mukti Cakra (BMC) factory. Helio also collaborates with other Bakrie Group business units to develop net-zero emission industrial areas to serve factories and manufacturing facilities that require a lot of electrical energy by utilizing solar and wind energy.
"With a capacity of 317.7 kWp (kilowatt-peak) or 434 MWh (megawatt-hour) per year, the Rooftop PLTS installed at BMC is able to reduce CO2 gas emissions by up to 415 thousand kg per year, or the equivalent of around 15,000 trees that must be planted per year to absorb that amount of CO2," explained Ronald.
President Director & CEO of PT Braja Mukti Cakra (BMC) V. Bimo Kurniatmoko said, as part of the Bakrie Group and KTB business entities, his party sees that it is time for the automotive component manufacturing industry to use renewable energy sources that are greener and environmentally friendly. According to Bimo, this Rooftop PLTS will be an added value for the company in the eyes of customers who come not only from Indonesia but also abroad.
"In addition to investment savings, considering that energy is the third largest expenditure in our industry, this step also helps to encourage the energy transition process in Indonesia. As a pioneer in the Bakrie Group, we are proud," said Bimo.