Reducing Air Pollution, DKI Provincial Government Will Increase TransJ Electric Buses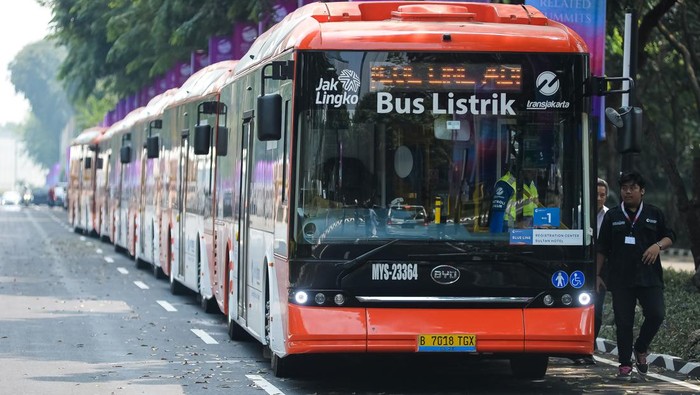 Source: Detik.com | 12 October 2023
The DKI Jakarta Provincial Government (Pemprov) plans to increase the number of TransJakarta electric buses. This was done to reduce air pollution in DKI Jakarta.
"The plan to replace conventional buses with electric buses will be implemented to minimize air pollution," said Acting Governor of DKI Jakarta Heru Budi Hartono in his statement, Thursday (12/10/2023).
Heru said that his party would arrange traffic light adjustments to handle traffic jams. Not only that, the DKI Provincial Government will also arrange parking on roads.
"Re-adjusting traffic light cycle times to reduce queue lengths and traffic delays and parking arrangements on roads. The DKI Jakarta Provincial Government continues to prioritize the rights of pedestrians and cyclists," he said.
Heru said that his party would continue to coordinate with the government regarding the integration of transportation modes in Jakarta. This was done to encourage people to switch to public transportation.
Previously, Heru Budi Hartono said that the DKI Provincial Government continues to budget subsidies so that people want to use public transportation. He said subsidies were given to users of mass rapit transit (MRT) to TransJakarta (TransJ).
"The MRT is still subsidized, Rp. 800 billion a year," said Heru at the Hub SPACE 2023 event which was held at JCC Senayan, Friday (29/9).
"Likewise, TransJakarta also provides subsidies so that all people want to use this transportation. The total is approximately IDR 3.5 trillion in total if people use TransJakarta," added Heru.
Heru said that the regional government (Pemda) together with the central government were trying to provide convenience and comfort for the public to use public transportation. If there is no subsidy, Heru said, people will have to pay IDR 31 thousand for one trip using public transportation.
"So IDR 3,500 is a subsidy, if the economic value is IDR 31 thousand. This means that the regional government is concerned with the central government in providing comfort and convenience for Jakarta's transportation," he said.
"Let's look after and use this transportation together. At least we can reduce the number of vehicles entering Jakarta," he added.