Employee Data
Company Human Resource Composition
In 2019, the total employee of BNBR and its subsidiaries increased by 1,2% to 3,180 employees. Composition of total employees of BNBR and its subsidiaries by end of 2019 consists of 2,052 permanent employees and 1,128 contract employees. Of all BNBR and its subsidiaries' employees, approximately 22% hold bachelor degrees or higher, 7% hold diploma degrees, and the remaining had primary education up to senior high school. In terms of age, approximately 24% are aged between 18-30 years, 49% are aged between 31-45 years, and the remaining are over 45 years old.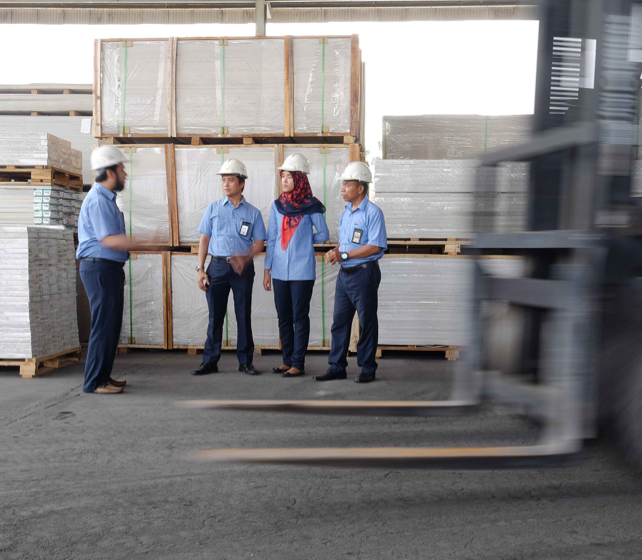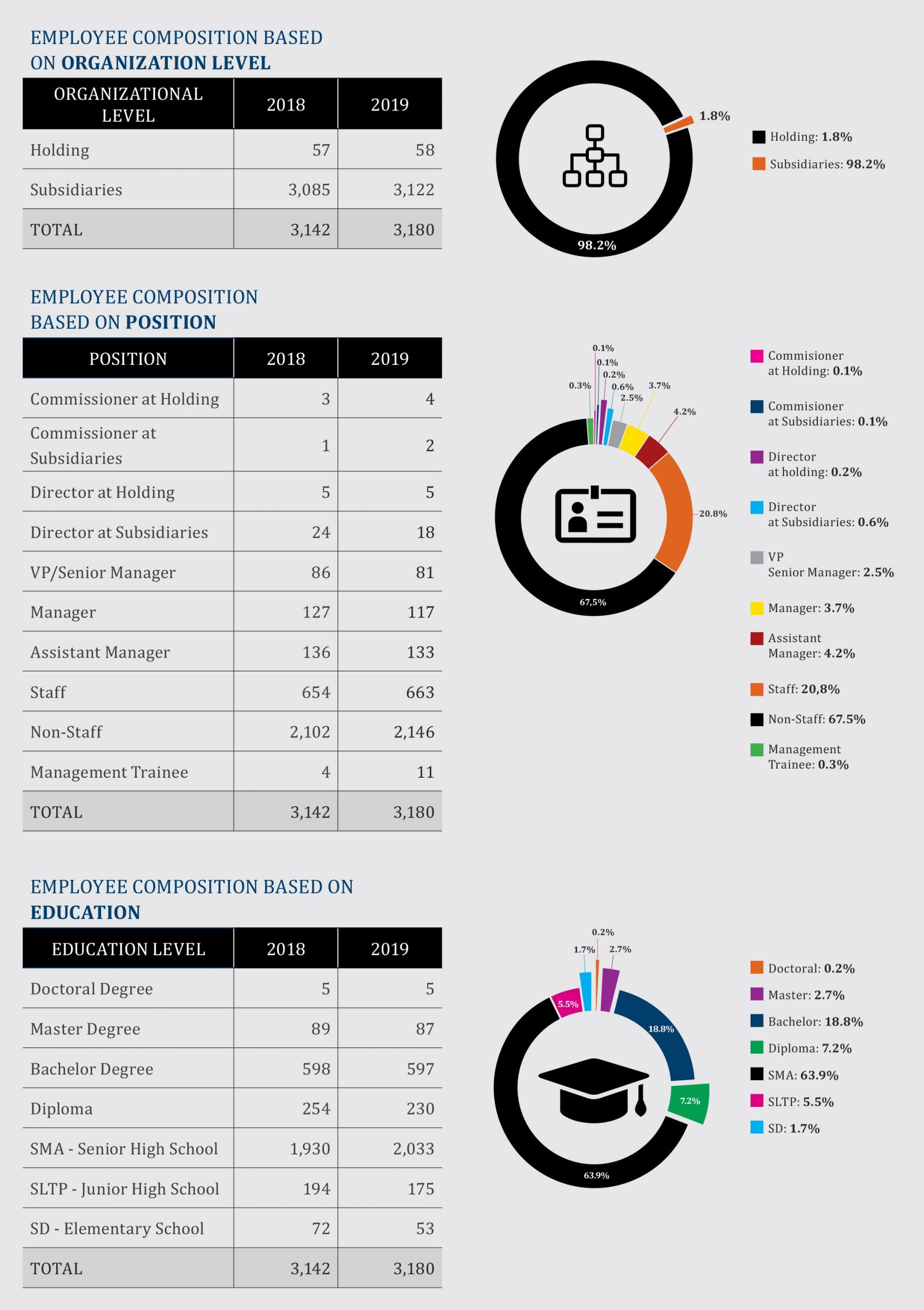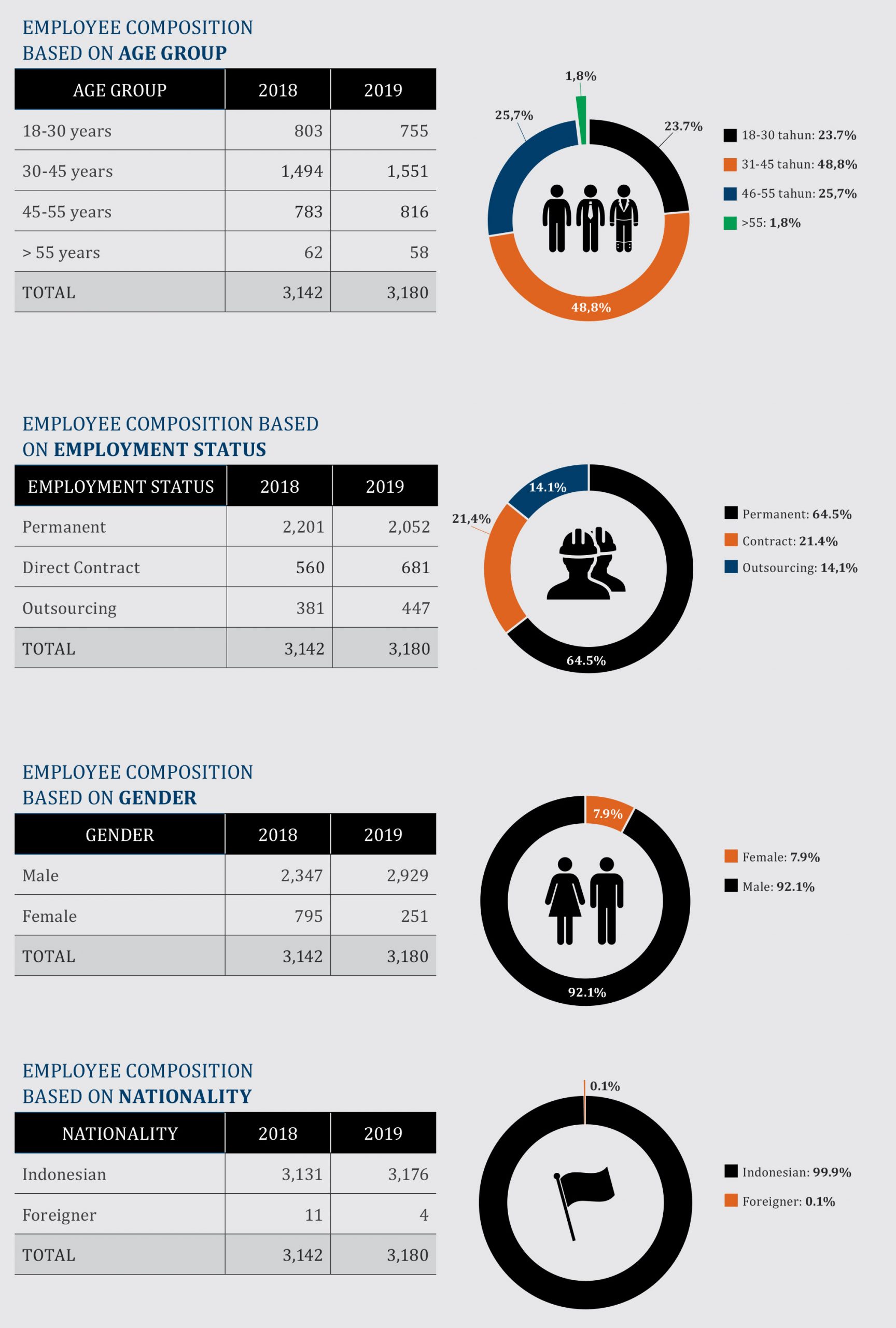 Human Capital Management Policies
As a company focused on operations in Portfolio Investment and Business Development in the real sector, BNBR always strives to improve HR Policy and Procedure (HRP). The Company has regulated Corporate HCP with policies on Business Conduct, Organization, Recruitment and Selection, Inter- Departmental and Inter-Group Promotion, Performance Evaluation systems, Training and Development, Compensation and Allowances and Industrial Relations.
In order to anticipate business development in the short and long terms, especially with regards to the fulfillment of targets related to investment goals and business development in the real sector, the Company has formulated HC requirement plans, both in terms of people quantity and people quality, for the next five years.
Over the last few years, the Company has recruited a number of investment and finance professionals, strengthening the Company's ability to achieve short- and long-term goals. Meanwhile, in order to fulfill long-term HC requirements, the Company recruits fresh graduates to be educated and developed through the Management Trainee program.
Equality of Career Opportunities
As part of its Corporate HC management policy, BNBR also implements a performance-oriented policy supported by remuneration and reward schemes designed to demonstrate recognition of positive performance among BNBR employees.
In accordance with Law No. 13 2003 on Employment, the Company applies a minimum age limit of 18 years old. The Company offers equal opportunities for all to be employed, receive training and develop their career according to their competencies and performance.
Bakrie Learning Centre
Bakrie Learning Centre focuses on implementing a training program involving education and overall human resource development, as a means of strategic investment of an organization. The program is known as the Bakrie Leadership Journey. The program is designed to recruit, develop, and manage employees, enhance corporate culture, and to expand the human resource capacity in order to continuously improve all of Bakrie Group's subsidiaries' talent pool.
Bakrie E-learning Portal
The Bakrie E-learning portal is an online learning platform for all employees of Bakrie, designed for employees to have access to learning materials.
Our mission is to provide an e-learning program that is interesting and user friendly, making employees engage within the site and gain easy access to the required or desired learning materials. We strongly believe that the e-learning concept is an efficient and effective learning platform to continuously enhance our employees' knowledge and overall performance.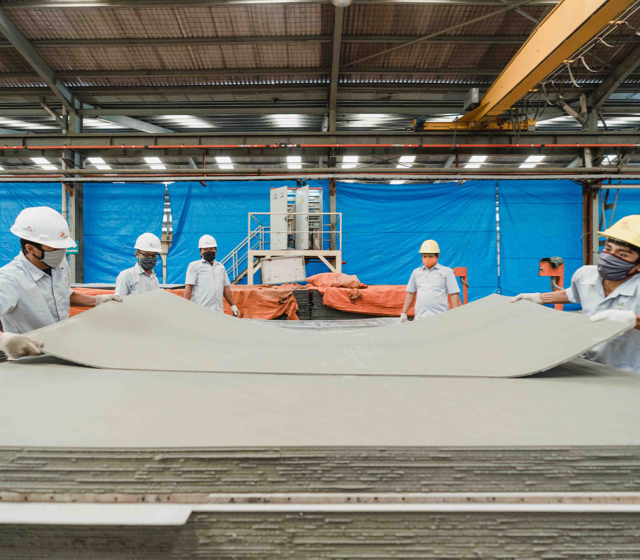 Training & Development
In order to keep up with the development of the business and also its contribution to the public, Bakrie & Brothers makes sure that every employee could develop their skill sets and capacity according to their specialties. The Company alongside Bakrie Learning Center (BLC) has implemented educational programs and training for employees in order for them to develop and overcome challenges in the future. To assure that every employee in the company could develop to take and to overcome business challenges in the future, the company alongside Bakrie Learning Center (BLC) has set up educational programs and employee training since 2012.
For more information please visit