Bakrie Participates in Building EBT Power Plant in Selayar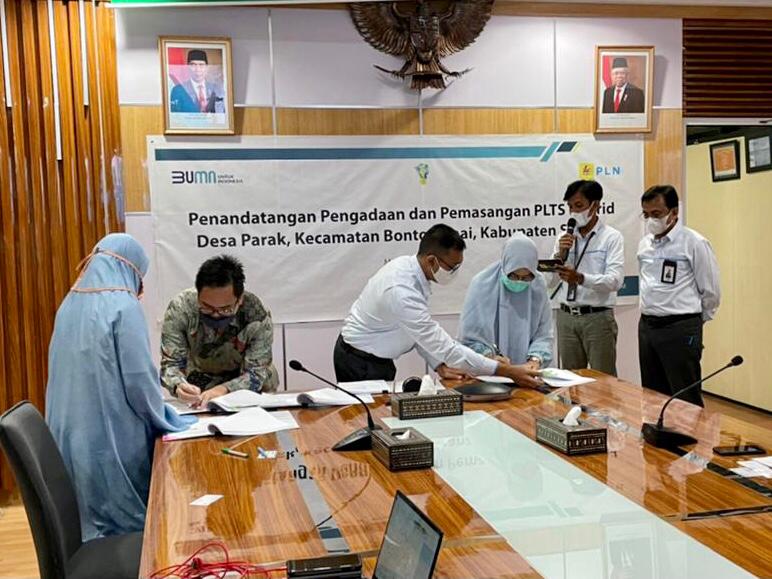 In order to help accelerate the use of new and renewable energy (EBT) launched by the government, PT Bakrie & Brothers Tbk (BNBR) through its subsidiary PT Bakrie Power has just agreed to cooperate with PT PLN (Persero) in the procurement and installation project of a Solar Power Plant ( PLTS) Hybrid in Parak Village, Bontomanai, Selayar, South Sulawesi. The signing of the collaboration was carried out on Tuesday (4/5) in Makassar, South Sulawesi, together with partners PT Dipa Jaya Sejahtera and PT Syntek Otomasi Indonesia.
President Director of PT Bakrie & Brothers Tbk, Anindya Bakrie said that PT Bakrie Power is indeed a business unit that has focused on developing the energy sector in Indonesia. "At present and in the future, environmentally friendly energy sources are increasingly becoming a priority. The central government has also targeted the national energy mix of 23% from NRE sources by 2025. We at Bakrie Group realize the importance of helping the government to accelerate the achievement of this energy mix target," said the man who is familiarly called Anin.
Furthermore, Anin also stated that his party is ready to always carry out strategic efforts and maintain synergies with ministries/government agencies and SOEs in the energy sector, in order to support the plan. "Our participation in this collaboration with PLN is proof of our seriousness in these efforts, so that the provision of efficient and environmentally friendly energy sources nationally can be implemented more quickly," he added.
PLTS Hybrid di Selayar ini direncanakan akan memiliki kapasitas sebesar 1,3 Mega Watt peak, dan diproyeksikan akan mulai beroperasi secara resmi pada Desember 2021 mendatang. Pembangkit listrik ramah lingkungan ini akan menjadi sumber listrik tambahan bagi PLTD dengan total kapasitas terpasang 13 MW di pulau Selayar yang saat ini telah beroperasi, untuk dimanfaatkan oleh 27.892 pelanggan PLN di Kabupaten Selayar. PLN mengalokasikan dana investasi sebesar 39 Milyar Rupiah untuk proyek ini.
Furthermore, the President Director of PT Bakrie Power, Dody Taufiq Wijaya stated that the Selayar Hybrid PLTS is an important project that marks the start of the era of converting diesel generators to cleaner renewable plants. "Across Indonesia, there are still hundreds of diesel-powered power plants that are now operated by PLN. This is a huge potential to be converted into a renewable energy generator, as we did in the PLTS Hybrid Selayar," explained Dody.
On the other hand, the presence of PLTS Hybrid also increases the reliability of electricity supply and improves service voltage for the people living around the location.
General Manager of PLN Parent Unit for South Sulawesi, Southeast Sulawesi and West Sulawesi, Awaluddin Hafid said that the signing of the PLTS Hybrid procurement was a form of PLN's commitment to providing environmentally friendly energy in these areas. "The presence of this PLTS Hybrid is expected to bring great benefits to the environment and the economy of the surrounding community, as well as to encourage investors to want to invest in the development of power plants that utilize new renewable energy," concluded Awaluddin.