BNBR Consistently Fixing Financial Position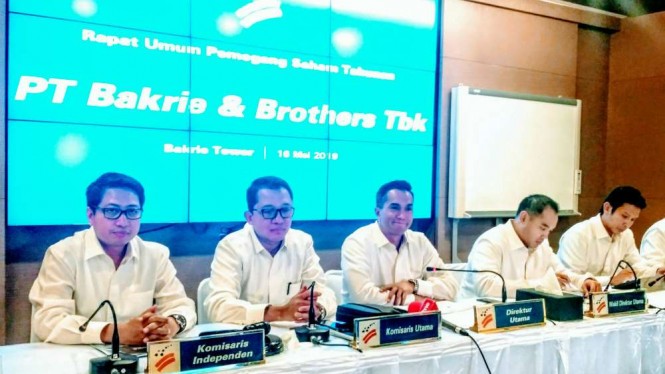 Source: Humas BNBR | 16 May 2019
PT Bakrie & Brothers Tbk continues to improve its business performance. The Company is committed to continuing concrete efforts to improve its financial position, and in recent years has actually shown positive results. The Company's profit record can indeed be optimized, and the Company's financial indicators over the past few years clearly show promising developments.
Both Bobby Gafur Umar who as of today, Thursday, May 16, 2019, officially let go of the position of President Director of the Company, and Anindya Novyan Bakrie, which today has been approved by the Annual General Meeting of Shareholders (AGM) of the Company to become the new captain of BNBR, agreed that improvements BNBR's financial performance must be encouraged. "Gradually and consistently, we have been able to improve and improve BNBR's performance. Debt burden consistently decreases, asset value increases, business unit performance improves. This will be a good provision for Mr. Anindya and Mr. Ardi Bakrie to continue, "Bobby Gafur Umar, who has also been lined up as a Commissioner of the Company, told reporters after the event.
According to Bobby, since 2013 BNBR has continuously made various efforts to improve its financial position, including by restructuring debt. This effort continued until 2018 then. The choices taken include converting debt into shares and reverse stock action.
Some important financial indicators show growth. In 2018 the Company's net income increased by 35.8 percent compared to 2017, to Rp 3.34 trillion. This was caused by, among others, improving demand for the Company's products in the manufacturing sector, particularly steel pipe products and automotive components. The Company's EBITDA in 2018 was positive at Rp 353 billion, compared to the previous year which was negative. The value of all assets also increased considerably in 2018, because the placement of short-term investments whose source of funds came from loans has been restructured.
At the end of 2018 the Company also managed to record positive equity in line with the completion of the process of restructuring part of the Company's debt through debt conversion by issuing New Shares and / or OWK to creditors with the mechanism of PMTHMETD according to the provisions in POJK No.38 and IDX Listing regulations, as well as regulations Other applicable regulations.
Performance of Business Units
The Company's business units that are engaged in manufacturing, namely PT Bakrie Autoparts, PT Bakrie Building Industries and PT Bakrie Metal Industries, continue to develop their business lines. "The results are also encouraging," Bobby said.
PT Bakrie Autoparts, which is engaged in the automotive component industry, will continue its efforts to take part in the sub-sector of passenger vehicle components and replacement components. Meanwhile, PT Bakrie Building Industries (building materials industry) will continue the expansion of high value-added products so that it can expand the market to the supporting infrastructure industry, and prepare the business transition process from manufacturing to service providers. Meanwhile, by considering the condition of the oil and gas and steel industry, PT Bakrie Metal Industries will increase its capacity in the EPC field and focus on working on opportunities in the non-oil and gas construction segment and steel pipes for the use of the non-oil and gas sector.
In the infrastructure sector, a number of the Company's business units are also involved in several strategic infrastructure projects. The Company continues to develop several infrastructure contracts and collaborates with several strategic partners to develop the Kalija Pipeline gas pipeline project. In the toll road infrastructure sector, in collaboration with PT Waskita Toll Road (a subsidiary of PT Waskita Karya Tbk), the Company is continuing the final phase of the Cimanggis – Cibitung toll road project. "Construction of phase 1 along the 3.17 km has been completed, now proceed with land acquisition in Bogor Regency for the next stage," Bobby said.
In addition, in the construction of the Tanjung Jati A power plant, the Company cooperated with YTL Jawa Energy BV (a subsidiary of YTL Corporation Bhd), and is in the process of establishing an EPC contractor and completing land acquisition for switching stations and transmissions.
Develop an Electric Bus
Bobby and Anindya Bakrie specifically underlined the efforts to develop the electric vehicle industry that has been initiated by the Company since some time ago. "This is a very prospective business future, and I am optimistic that the development of the electric bus industry will be accelerated faster under Pak Anin," Bobby said.
As is known, in collaboration with a leading electric bus manufacturer from China, BYD Auto Co.Ltd, PT Bakrie & Brothers Tbk through its subsidiary PT Bakrie Autoparts began to enter the electric bus business. While awaiting the issuance of regulations related to electric vehicles, BNBR has even begun to explore the possibility of cooperation with a number of local governments and big cities in Indonesia. It is planned that BNBR will not only supply vehicles, but also offer the design and management of an integrated mass transportation system for cities in Indonesia. "We have established cooperation with PT Trans Jakarta," Bobby said while explaining that the Jakarta city transportation authority will soon conduct an operational test of a number of electric buses on existing routes, utilizing a number of bus units brought by PT Bakrie Autoparts directly from its manufacturer, BYD Auto Co Ltd in China.
About Anindya Bakrie
BNBR's Annual General Meeting of Shareholders (AGM-T) has approved the appointment of Anindya Novyan Bakrie as President Director, replacing Bobby Gafur Umar who held the position since 2002. The meeting also approved the addition of one director in the leadership of the Company, namely Roy Hendrajanto M Sakti, and the appointment of Sutanto as the President Commissioner and concurrently the Independent Commissioner of the Company. Roy Hendrajanto M Sakti is a practitioner in the financial industry and capital markets with more than 20 years experience in the field.
Through the Extraordinary General Meeting of Shareholders in April 2018, Anindya Bakrie was appointed as BNBR President Commissioner along with the appointment of Anindra Ardiansyah Bakrie as Deputy Director. "Now, it is Pak Anin's turn to be accompanied by Mr. Ardi who will lead Bakrie Brothers," said Bobby Gafur Umar.
According to Bobby, Anindya is the right person to lead PT Bakrie & Brothers Tbk in the future. "All agree, our business world will be increasingly challenging. The dynamics of the global economy, geopolitical changes and the rapid development of technology have affected the business world in Indonesia, and the effect is also felt in Bakrie. We need a young captain, brilliant, and can bring this company to face all the challenges of change, "said Bobby.
Anindya Novyan Bakrie was born in Jakarta in 1974. Anin obtained an MBA from Stanford University, California, United States in 2001. Currently Anindya also holds a number of strategic positions in the Bakrie Group, including as President Director of VIVA since 2014 and as CEO of PT Bakrie Global since 2012; Commissioner of PT Lativi Mediakarya since 2017 and President Commissioner of PT Cakrawala Andalas Televisi since 2009.
Anindya is also still listed as President Commissioner of PT Bakrie Sumatera Plantations Tbk. since 2012. He is also the President Commissioner of PT Intermedia Capital Tbk. since 2013 and as President Commissioner of PT Bakrie Telecom Tbk. since 2013. Anin's name is also listed as the founder of the Bakrie Center Foundation (BCF), Deputy Chairperson of the Indonesian Chamber of Commerce and Industry (KADIN), Co-Chairman of the APEC Business Advisory Council (ABAC) representing Indonesia, members of the Board of Trustees Eisenhower Fellowship and Board member of the International Council Belfer Center for Science and International Affairs at Harvard University.