Bakrie Tanggap Distributes Logistics Assistance To Flood Survivors In Bogor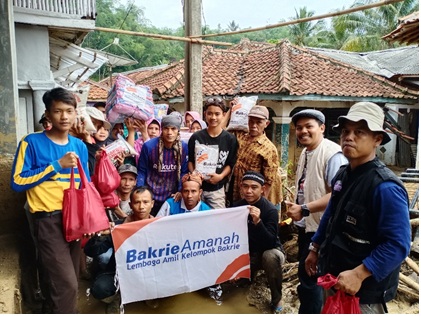 06 Jan 2020
The Bakrie Tanggap Team continues to distribute logistical assistance to a number of affected areas since the first day of the flood disaster in Jabodetabek. After previously distributing logistical support in Kebon Pala, Kampung Pulo, Bekasi, and Bogor, the team returned aid in the areas affected by floods and landslides in Kampung Cigowong, Sukamaju Village, Cigudeg District, Bogor Regency, Monday (1/6/2020).
"Today the main activity is psychosocial with children, we bring food packages for children," said the Person in Charge of the Bakrie Tanggap Field, Yuli Wulandari, Monday (1/6/2020). Furthermore, Yuli said, the team that came down also brought logistical support in the form of food, blankets, baby food, school equipment, toiletries and a number of other basic needs.
Yuli said, Cigudeg was the most severely affected area of ​​flooding in Bogor Regency. In this district there are at least 10 villages affected by flooding and 7 of them are still isolated. "In this situation what is needed is logistics, especially food and clothing that is suitable for use," he said.
On Sunday (5/1/2020) yesterday, the Bakrie Tanggap team also descended to one of the areas affected by floods and landslides in Bogor Regency. The location is in Congcorang Lebak Village, Harkat Jaya Village, Sukajaya District. In the region, Bakrie Tanggap also distributed a number of logistical assistance directly to the survivors.
On Saturday (4/1/2020), the Bakrie Tanggap team distributed logistics assistance in 4 points in Babelan District, Bekasi Regency. The logistics submitted included blankets, 150 sets of food and clothing, and toiletries.
As for Friday (1/3/2020), the Bakrie Tanggap team provided logistical assistance to flood victims in Kampung Pulo, Kampung Melayu, East Jakarta. The logistical assistance was given in the form of food, mineral water, baby equipment, and a number of medicines.
Bakrie General Manager Amanah Setiadi Ihsan, said that Bakrie Tanggap provided immediate assistance to the community as an emergency response. Because in these locations the need for basic commodities is still quite large.
"During this week we will support logistics after that health assistance," he explained. Ihsan said, aid was distributed to a number of points in Jakarta, Bogor, Tangerang, South Tangerang and Bekasi. (ZEN)