Two Power Together, BBI And Gyproc Are Ready To Control Indonesian Market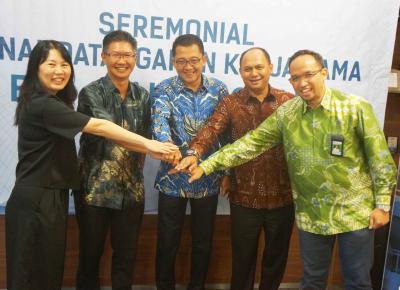 Source: Humas BNBR | 15 Dec 2017
PT Bakrie Building Industries through its subsidiary PT Bangun Bantala Indonesia (BBI) is strengthening its presence in the country's building materials industry. BBI, which in fact is engaged in trading, distribution, and solution services for building materials both locally and internationally, is currently prepared to be able to become the leading distributor of building materials capable of controlling the supply of building materials to development projects in Indonesia. To achieve this goal, BBI actively collaborates with several national and foreign building material principals, expanding its network through retail throughout Indonesia, as well as penetration through leading contractors and developers in Indonesia.
One of BBI's concrete steps in enriching the list of cooperation with building material principals, is proven through affiliation with one of the largest building material manufacturers in Indonesia, PT Saint Gobain Construction Products Indonesia, or better known by its trademark 'Gyproc'. As is known, Gyproc product is one of the gypsum board market leaders in Indonesia which has existed since 2007 under the auspices of Saint Gobain Group whose network is spread in more than 67 countries.
The moment of cooperation between the two industries was also framed in the form of a simple ceremonial which was held on December 15, 2017, located in the Bakrie Tower building in South Jakarta. The signing of the cooperation agreement was attended directly by Hantarman Budiono, as the President Director of Saint Gobain; and Yogi Pratomo Widhiarto, as Director of BBI, and witnessed by Bobby Gafur S. Umar, as President Director of PT Bakrie & Brothers, Tbk, which is a holding company that houses BBI. With the signing of the agreement, the affiliation of the two companies is officially underway. The cooperation between the two companies is certainly a breath of fresh air for the building materials industry, where BBI is lined up to be one of the trusted Gyproc product distributors to market its products to all regions in Indonesia.
On the sidelines of the ceremonial event, Yogi Pratomo Widhiarto as Director of BBI delivered his comments,
"We of BBI are certainly very happy and proud of the increasing number of companies that become BBI's business partners. Moreover, Gyproc is a gypsum board product whose credibility is undoubted and familiar to Indonesian consumers. In addition, the existence of Gyproc manufacturing in Indonesia certainly indirectly makes it easy for us to coordinate if we need help in the field, and the Gyproc team is also committed to providing full support to the BBI team, especially in terms of product application and education to applicators in the field. Of course I hope that this cooperation will continue and develop in the future, and be able to deliver BBI to become the number one distributor of building materials nationwide."
Yogi continued, BBI itself already has certain plans and targets in marketing the gypsum board product from France. BBI is also optimistic that it will be able to escalate the number of potential projects that will lead to an increase in the company's revenue, especially in the Greater Jakarta area and Java and Sumatra islands which are being built by many infrastructure projects. Previously, BBI has also recorded a number of historical involvement in several projects such as residential, hotels and resorts, high-rise buildings, hospitals, and cultural heritage buildings such as the palace.