Presenting a Comfortable and Reliable Electric Motorcycle, VKTR Partners with SLIS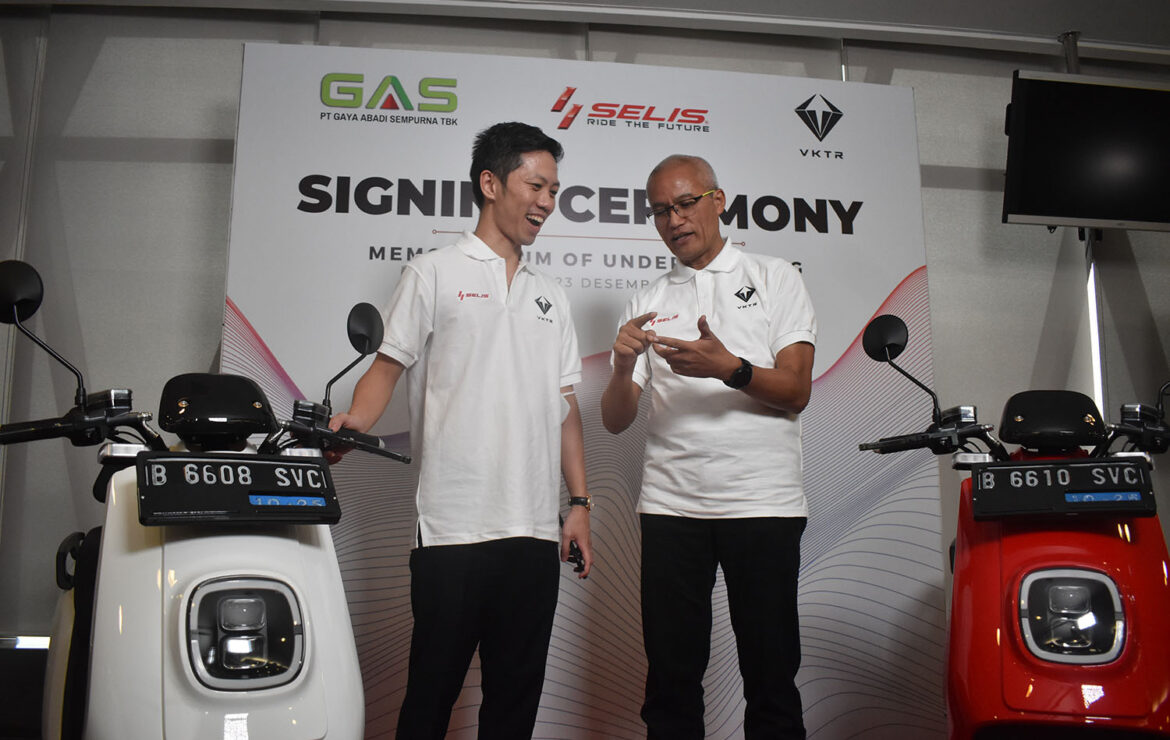 PT VKTR Teknologi Mobilitas (VKTR) is increasingly serious about developing the electric vehicle ecosystem in Indonesia. After collaborating with various parties, now VKTR is increasingly sharpening its position to also play in the electric motorcycle industry by collaborating with PT Gaya Abadi Sempurna Tbk (GAS) which has an issuer code ("SLIS"), the parent company of PT Champion Bike, a manufacturer of electric vehicles with the Selis brand.
President Director of VKTR Gilarsi W. Setijono said the inclusion of VKTR in the electric motorcycle industry was part of the company's commitment to support the government in realizing the 2060 net zero emission program. Considering that the number of motorbike users in Indonesia is very large, it is very significant to reduce the adverse effects of gas emissions.
"Data for 2021, on the island of Java alone there are 89,660,579 units with a total in Indonesia of 119,536,624 units. It's no wonder that motorbikes consume 69℅ of the total national gasoline supply. So we really support the government's program to encourage people to switch to bicycles electric motorbikes," he explained, during the signing of a memorandum of understanding (MoU) between the two parties, in Jakarta, Friday (23/12/2022).
This signing, added Gilarsi, was part of a workshop involving both parties. In the workshop, it will be discussed in detail regarding the concept of electric motorbikes that will be produced by VKTR together with SLIS, quality, beta testing, and production acceleration with the target of fulfilling TKDN in accordance with what has been set by the Government.
Gilarsi said that his party was optimistic that with the signing of this MoU, through the resources owned by each, in the future they would be able to break into the market and produce quality electric motorcycle products according to the needs of the community. The MoU itself was signed by the Managing Director of VKTR Gilarsi W. Setijono and the Managing Director of GAS Edi Hanafiah Kwanto.
"VKTR and GAS are both manufactures of electric vehicles where GAS has specifications for reliability in producing electric motorbikes, I am sure this collaboration will be big in the future, able to present reliable products to support the high mobility of society, especially urban or urban consumers. "In the future, with government support for the electric vehicle industry, the electric motorcycle market in Indonesia will definitely grow rapidly," he said.
Gilarsi explained, VKTR together with GAS will produce a total of 4 types of electric motorbikes. Namely types V, K, T and R. The four of them will be released simultaneously in mid-2023. "Our preparations have been mature, including R&D, production, marketing and after sales activities. We are sure that, in mid-2023, an electric motorcycle product will be born. "It's not just a two-wheeled environmentally friendly mode of transportation, but a lifestyle mobility solution that will change the definition of comfort in driving with the best performance in its class," said Gilarsi.
President Director of GAS, Edi Hanafiah Kwanto, said that his party welcomed this collaboration. Even though he has been in the electric motorbike industry in the country for a long time, the partnership with VKTR will open up more opportunities to enter the electric vehicle market more broadly.
"Through this collaboration, we hope to continue to understand the needs of EV users in Indonesia, improve the ease of use and reliability of the technology, and provide the best for consumers and contribute to achieving emission-free and net zero by 2060," said Edi.