Profit Back After the Pandemic, BNBR 'Pivoting' Towards Sustainable Business and Targets VKTR IPO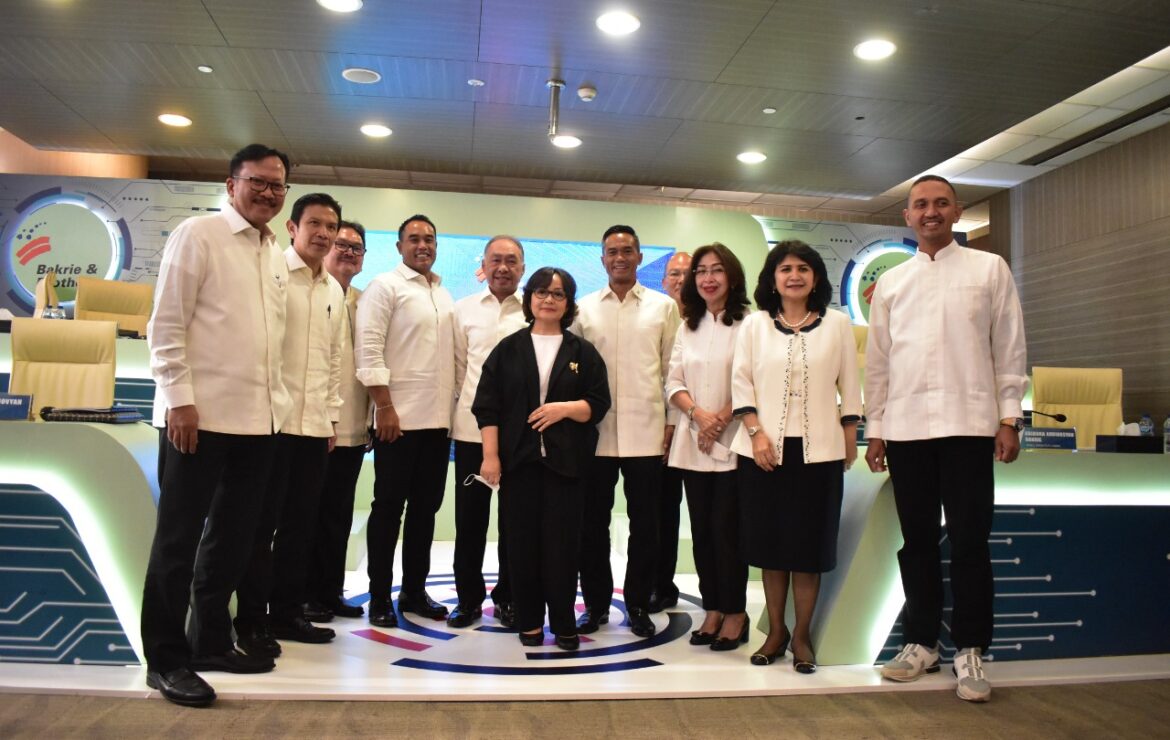 PT Bakrie & Brothers Tbk (the "Company" or "BNBR") managed to make a positive financial performance throughout 2021 after recording less than encouraging results in the previous year. The President Director and CEO of BNBR, Anindya N. Bakrie, stated that this achievement was achieved through hard efforts. "We are grateful that the hard work and efficiency measures that have been implemented have had a positive impact. We believe this will continue, along with the rolling out of a number of strategic projects that we are currently working on", he explained at the BNBR Annual General Meeting of Shareholders (AGMS) held, Thursday (21/07), in Jakarta.
With improving financial performance, BNBR's steps are now lighter to focus on pursuing sustainable business, especially in the new and renewable energy industry or green energy and transportation electrification. The two business fields that are currently being developed are part of the Company's commitment to support Indonesia's net zero emission (NZE) target, or emission-free by 2060, as well as being one of the Company's targets to become an emission-free company.
BNBR managed to record a positive financial performance by posting a net profit of more than Rp. 98 billion in 2021, reversing the position of the previous year which experienced a net loss of Rp. 930 billion. This positive performance was partly due to operational efficiency in the subsidiaries.
Although net income decreased by 2.9 percent, the Company managed to reduce the cost of goods sold (HPP) by 11 percent which caused the Company's gross profit to increase by 70 percent to Rp 418 billion in 2021, from the previous year's position of Rp 245. 9 billion. Operating expenses also decreased by 25 percent so that it managed to record an operating profit of Rp. 24.2 billion compared to the previous year which experienced an operating loss of Rp. 279.1 billion.
Strengthening Company Management
The 2022 BNBR Annual General Meeting of Shareholders (AGMS-T) has also approved the Company's plan to appoint Armansyah Yamin as President Commissioner to replace Police General (Ret.) Drs. Sutanto, and appointed Raniwati Malik as an Independent Commissioner. In the Board of Directors, the Company also appointed Kartini Sally as Director.
Prior to being appointed as President Commissioner, Armansyah Yamin had joined the management of the Company as Commissioner. Meanwhile, Raniwati Malik, who is known as an expert in the field of corporate law, previously held various executive and commissioner positions in several large companies. Meanwhile, Kartini Sally has served as one of the Directors at PT Bank Mandiri Tbk.
Pivot To Sustainable Business
Completing his presentation in the AGM report, Anindya Bakrie also briefly explained about the continuation of sustainable business programs that the Company is currently working on. Through PT VKTR Teknologi Mobilitas (VKTR), the Company is increasingly focusing on transportation electrification projects by developing electric buses for public transportation. Earlier this year, as many as 30 electric buses from BYD-VKTR were operating in Jakarta as part of the TransJakarta operational fleet.
Currently, VKTR is promoting cooperation with many parties, as one of the Company's strategies to build a complete and strong electrification industry ecosystem from upstream to downstream. "In addition to BYD Auto and local body company Tri Sakti, through VKTR, we have invested and collaborated with retrofit and heavy mobility technology company from the UK Equipmake and environmentally friendly battery manufacturer BritishVolt, also from the UK. On the other hand, VKTR has also recently signed agreements with several suppliers of battery raw materials, including regional companies," explained Anindya Bakrie.
The Company's pivot to sustainable business, which is marked by the development of the electric vehicle industry, is confirmed by the Company's plan to conduct an Initial Public Offering (IPO) of VKTR. "God willing, we will be able to carry out the VKTR IPO at the end of 2022. With this step, it is hoped that the VKTR valuation can grow rapidly and the development potential of this company will be wider open," said Anindya further.
Performance of Other Business Units
In the field of renewable energy, together with PT PLN (Persero), PT Helio Synar, a subsidiary of PT Bakrie Power, which is also under the auspices of BNBR, recently inaugurated a Hybrid Solar Power Plant (PLTS) in Parak Village, Bontomanai, Selayar, South Sulawesi. . Helio Synar is currently handling the next two types of EBT projects, namely de-dieselization and PLTS Rooftop (C&I Rooftop PV).
In collaboration with PT Waskita Toll Road (a subsidiary of PT Waskita Karya Tbk), the Company has completed the first phase of the Cimanggis–Cibitung toll road project at the end of 2020, spanning 3.2 kilometers. This toll road has started operating on November 10, 2020, starting with Section I (Cimanggis – Jatikarya) and is connected to the Cinere–Jagorawi Toll Road and Jagorawi Toll Road. In the first six months of 2022, the average number of vehicles passing through Section I reached 32,453 vehicles per day. Meanwhile, Section IIA (Jatikarya – Cikeas) is targeted for completion in September 2022. Meanwhile, the Cimanggis-Cibitung Toll Road is targeted for complete completion in July 2023. As for Section II, land acquisition work has reached 89.59 percent and construction has reached 72 percent.
Another BNBR business unit also made an encouraging achievement. PT Bakrie Autoparts (BA) and its subsidiaries, which produce automotive components, were able to increase revenue to Rp 813.8 billion, up 90 percent compared to last year's Rp 428.4 billion in the same period. The increase in revenue was triggered by increased demand for vehicle parts as a positive impact of the government's policy of providing 0% PPnBM stimulus for certain types of vehicles.