Positive Financial Performance, BNBR Continues Sustainable Business Transition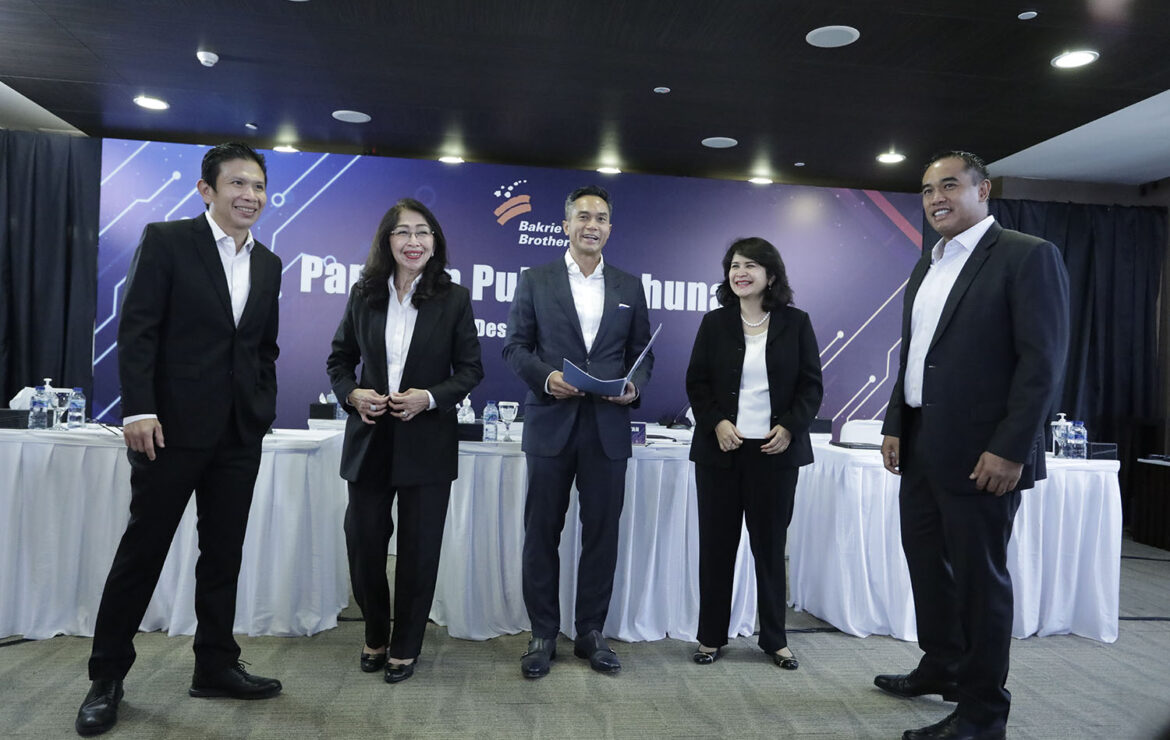 PT Bakrie & Brothers Tbk (BNBR) continues to expand its business as well as continuing the transition towards a sustainable business, especially in the electrification transportation industry sector and the new & renewable energy (EBT) or green energy industry sector. This strengthens the company's commitment to supporting Indonesia's net zero emission (NZE) target, or carbon emission free in 2060. BNBR management conveyed this during the company's Annual Public Expose, Tuesday (13/12) in Jakarta.
"In addition to continuing to strive to improve the performance of our business units which have been running well so far, in recent years we have consistently pioneered the development of a technology-based industry, oriented towards the concept of a sustainable business. This is proof that we are trying to fully adopt the principles of ESG (Environment, Social, Governance)," said the President Director and CEO of BNBR, Anindya Novyan Bakrie in his presentation.
The transition towards the company's sustainable business can be seen from the continued development of one of BNBR's subsidiaries, PT VKTR Teknologi Mobilitas ("VKTR") which is engaged in the electrification of transportation. In addition, PT Bakrie Power ("BP"), a subsidiary engaged in the electricity sector, is transitioning to PT Helio Synar ("Helio") which among other things handles the development of the EBT power generation industry. Most recently, the company established PT Modula Sustainability Indonesia ("Modula") which invests in the latest and environmentally friendly 3-D printing technology, in the field of building construction.
The company's spirit is increasingly motivated by the positive financial performance in the third quarter of 2022. Finance Director Roy Hendrajanto M. Sakti said the company was able to record a net profit of Rp. 140 billion after recording a loss of Rp. 45 billion in the same period. Last year, the company earned Rp 1.56 trillion in revenue but now it has increased by almost 49% to Rp 2.3 trillion, year-on-year.
"The Covid-19 pandemic left a significant impact on the company's revenue in 2020 and 2021. 2022 is the time for us to run a recovery program. Thank God, the cost management measures that we implemented have played a role in generating net profit for the company from January to September this year," said Roy.
Roy believes that his party will be able to consistently make various breakthroughs to improve its financial position, especially by completing the debt restructuring process and implementing efficiency programs at the operational level of its subsidiaries. "Our efforts to revitalize the balance sheet are showing encouraging signs. The priority now is to complete the debt restructuring program that was initiated some time ago. Hopefully we can finish it soon," said Roy.
Business Unit Achievements in 2022
Throughout the three quarters of 2022, BNBR's subsidiary engaged in the steel pipe industry, namely PT Bakrie Pipe Industries ("BPI") has produced more than 62,000 tons of various types of pipe products with absorption by the oil and gas segment of more than 50%. Meanwhile, production of BPI's electricity poles was recorded at nearly 16,000 tons, equivalent to ±556 kilometers with a market share value of around 25%.
Meanwhile, the production volume of automotive components from the PT Bakrie Autoparts ("BA") business unit in 2022 will reach around 16,000 tons. This production is intended to meet the demand for original equipment manufacturer (OEM) products for Mitsubishi manufacturers (as much as 100%) and Hino (60%).
In collaboration with PT Waskita Toll Road, the company began operating the Cimanggis-Cibitung toll road, starting with Section I (Cimanggis-Jatikarya) and connected to the Cinere-Jagorawi toll road. The average number of vehicles passing through this section increased by 18% compared to the previous year, to 36,398 vehicles/day. Meanwhile, the construction of Section II has completed 72% of construction and is targeted for completion by the end of 2023.
A subsidiary in the information technology and telecommunications infrastructure sector, PT Multicontrol Nusantara ("MKN") this year has been involved in construction projects for a fiber optic network spanning ± 1,800 km or a total of 65,000 homepasses, spread across several locations in Indonesia.
PT VKTR Teknologi Mobilitas ("VKTR"), another BNBR unit, is currently initiating the construction of an R&D facility in the field of vehicle electrification, and is involving a number of leading universities in the country. This research facility is an important part of the country's electric vehicle ecosystem which is now being built by VKTR together with several strategic partners. VKTR is also preparing an additional order for 22 units of electric buses from Transjakarta.
Through PT Modula Sustainability Indonesia ("Modula"), the company is investing in the 3-dimensional printing construction technology (3DCP) sub-sector, in a joint venture with COBOD International. Modula is expected to become one of the pioneer companies providing this new technology, especially in the building and housing construction industry segment in the Indonesian market.
In the field of the EBT energy industry, PT Helio Synar's business unit, which is a partner of PT PLN (Persero) in the construction and operation of PLTS Hybrid in Selayar, South Sulawesi in 2021, is now targeting a number of PLTU de-dieselization projects belonging to PLN that are spread across in various regions, in addition to pioneering the construction of Rooftop PLTS projects in a number of locations in Indonesia, including the installation of Solar Power Plant (PLTS) facilities in the roof covering structures of factories located in West Java, namely at PT Braja Mukti Cakra (BMC ) and PT Bakrie Pipe Industries (BPI).