Bakrie Group Presents Another Fleet of Electric Buses in Jakarta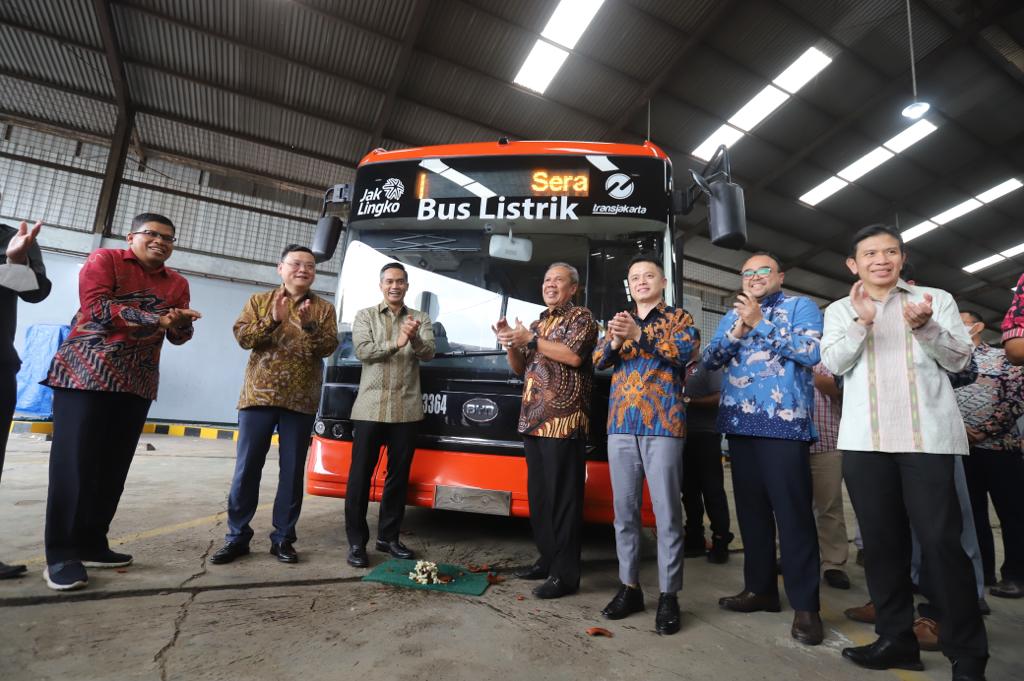 PT Bakrie & Brothers Tbk (BNBR) is increasingly showing its seriousness in supporting the government's efforts to make the transition towards using green energy, especially in the electrification of transportation in DKI Jakarta. The company through the business unit PT VKTR Teknologi Mobilitas Tbk (VKTR) is now handing over a total of 22 units of electric buses to PT Mayasari Bakti, as one of the Transjakarta operators, in Jakarta, Tuesday (14/3/2023).
"The supply of these electric buses is a form of our commitment at the Bakrie Group, to continue to make the energy transition in all elements of the business that we run. Specifically in the development of the transportation electrification industry that is currently being pursued, we hope to help present green transportation solutions for the city of Jakarta while fully supporting the government's target of achieving Net Zero Emissions by 2060," explained BNBR President Director & CEO, Anindya N. Bakrie to the media , during the handover of the electric bus from VKTR to PT Mayasari Bakti.
The 22 electric buses handed over by VKTR to PT Mayasari Bakti are indeed a continuation of the use of 30 similar buses with the BYD brand that have been operating since last year. To journalists, VKTR CEO Gilarsi W Setijono explained about the continuation of his partnership with the world's largest electric vehicle industry player, BYD Auto. "We continue to strengthen and develop a strategic partnership with BYD. Currently, we are bringing in CBU (completely built-up) type K-9 buses directly from the BYD factory in Shenzhen, China. In the next stage, we will begin the process of building assembly facilities in Indonesia, of course with the help of expertise from BYD as well," Gilarsi explained.
Gilarsi also stressed the importance of VKTR increasing the TKDN (Domestic Content Level) of their bus manufacturing products. "We hope that the electric buses that we launch next will undergo part of the local assembly process in Indonesia, with the percentage of TKDN that will continue to increase from time to time," said Gilarsi.
According to Gilarsi, BYD has also shown a commitment to strengthening their presence in the Indonesian market, and is currently studying several opportunities that can be worked on immediately. "In essence, BYD Auto realizes the huge potential of our market, the 4th most populous country in the world which is rich in natural resources. Of course they don't want to waste this opportunity," Gilarsi said again. In the event that was held at PT Mayasari Bakti's office, several BYD officials attended, including COO BYD Auto, Tian Chunlong, who participated in every activity that took place.
In line with BYD's role, Gilarsi also appreciated the host of the handover event, PT Mayasari Bakti, who actively participated in pushing for the electrification process to go according to plan. "We are grateful to have a partner with a strong commitment like PT Mayasari Bakti. All staff, from top to bottom, understand the importance of this process of change in the public transportation industry – especially in the effort to adopt the electrification of the bus fleet," said Gilarsi. PT Mayasari Bakti also said he had long experience and qualified capacity in the public transportation industry, making it easier for them in this transition process.
On the sidelines of the event, PT Transjakarta Yoga Director of Operations & Safety Adi Winarto also expressed his appreciation for the cooperation of the parties involved in the electrification process of the bus fleet he operates. "We have been greatly assisted and of course we are grateful to PT Mayasari Bakti and also VKTR, because of their pioneering efforts to use electric power for our bus fleet to be realized. Hopefully the target of electrifying our entire fleet can be achieved soon," he said.
Gilarsi also expressed his hopes for the future. "We will continue to build partnerships with various parties to be able to localize technology in every existing supply chain process, and develop an electrification transportation ecosystem on all sides, upstream to downstream," explained Gilarsi. In addition to being a partner with PT Mayasari Bakti and partnering with BYD Auto, VKTR has signed partnerships with technology provider and environmentally friendly battery manufacturer Envision, Tri Sakti car body company in Central Java, heavy mobility technology company from England Equipmake, Surabaya State Polytechnic of Electronics ( PENS), Sebelas Maret University (UNS) Surakarta and a number of other parties. "We want the transportation electrification ecosystem in Indonesia to be fully developed and ready to fully contribute to this country. That is our ultimate goal," concluded Gilarsi to reporters.